NS Enhanced ADP Open and Growing!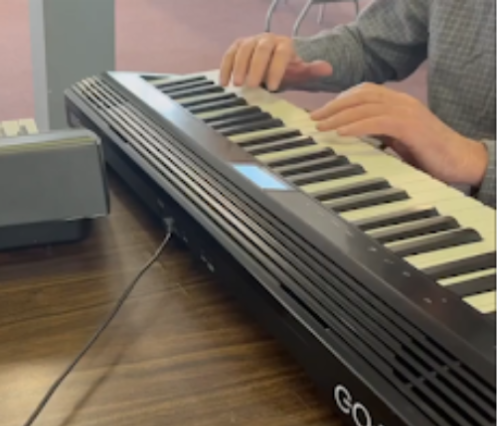 VON Nova Scotia's new Enhanced Adult Day Program (EADP) welcomed its first two clients in December of 2022. Just a few months later, the team serves 10 clients at two locations, in Truro and Stellarton.
"We're overjoyed to see the incredible impact the EADP is already having after such a short time," says Charlotte Kennedy, Manager, Home and Community Care (CSS). "Clients seem to be really enjoying the program; it's incredibly rewarding to hear them say things like, 'this is so fun' and 'I'm having the best day.'"
Clients enjoy a day of meals and snacks and fun activities, including book club, baking and music. "Our music programming is one of the most popular activities, whether it be recapturing the joy of playing instruments that in recent years had lapsed or participating in a group sing song," says Charlotte. 
The EADP provides a safe, comfortable and stimulating environment for clients who may require additional supports not available within the traditional model of Adult Day, such as assistance with medication, feeding or toileting. Both models give caregivers much-needed respite.
"Families are telling us how much their loved ones look forward to attending the EADP and seeing their friends," Charlotte says. "Best of all, we're even seeing people that were initially reluctant to try the program start attending, sometimes even multiple times a week."
One client who struggled to even go into the building on her first day now attends three days per week. Her family says she loves the program and looks forward to being with her new friends.
It should be noted that this program currently provides respite service to Continuing Care clients only.
Read more about VON's EADP:
https://von.ca/en/news/von-pilots-enhanced-care-adult-day-program-nova-scotia