VON Pilots an Enhanced Care Adult Day Program in Nova Scotia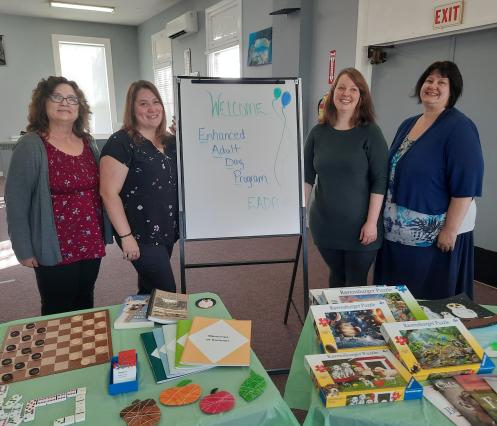 On November 7, VON launched its Enhanced Care Adult Day Programs in Truro and New Glasgow. The program provides a safe, comfortable and stimulating environment for seniors and adults living with dementia, chronic illness, intellectual disabilities and/or social isolation. These clients may require additional supports that aren't available within the traditional social model of Adult Day, such as assistance with medication, feeding or toileting.
This program is an alternative to one-on-one, in-home respite. It gives clients the opportunity to maintain and improve cognitive and physical skills through exercise, activities, entertainment and discussions in a congregate setting.
The enhanced care program includes a day full of meaningful activities. There are activities and equipment to promote stability and mobility, exercise and a schedule to support a range of needs. For example, the daily morning meeting has a foundational ritual and snack, which is followed by trivia, reminiscence, physical activity, crafts or arts and baking.  After lunch, there's a mix of board games, puzzles, Bingo, and the day wouldn't be complete without a live piano performance by one of the staff!
The spaces lend themselves easily to the program's robust offerings. For example, the Truro program takes place in a church that dates back to 1928 that offers a bright and cheery lower-level. It has an expansive space with a warm and expansive kitchen and three bathrooms. The team is able to provide home-cooked meals to clients with the support of dedicated volunteers and even some clients. There's also a space in the main hall where participants who would benefit more from activities that foster a sense of independence can break off into individual groups. 
VON held open houses on November 23 and 24 in Pictou and Truro, respectively. The team welcomed care coordinators, answered their questions and gave them the opportunity to view the program spaces.  
In the coming weeks, the ADP team will host some social events for caregivers, such as a Christmas tea. Such activities allow  families to see the spaces and deepen relationships with their loved-one's care providers. And, as with every ADP, this program will give caregivers time to take a well-deserved day of respite. 
VON Nova Scotia has received over $1.5 million in government funding as leaders or partners in five innovative projects for seniors to drive true change at the community level. Enhanced care adult day programs   are one of these projects.