Lieutenant Governor of Nova Scotia Welcomes VON Team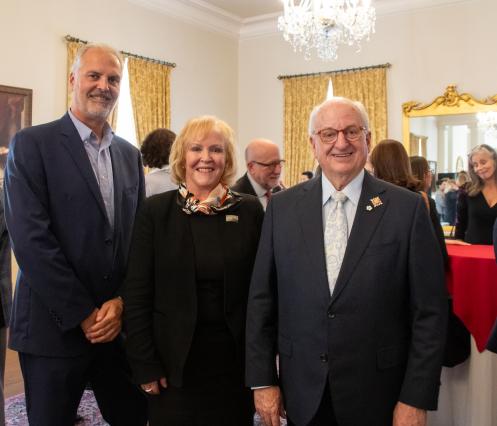 On September 28, His Honour The Honourable Arthur J. LeBlanc, Lieutenant Governor of Nova Scotia, hosted a reception to recognize and thank VON donors, volunteers, Board members and staff who have contributed to the VON Connect fundraising campaign. 
The event took place at historic Government House and was co-hosted by Her Honour Mrs. Patsy LeBlanc, who is an Honorary Patron for VON Greater Halifax. (Photo, left to right: Jeff Densmore, VON Regional Executive Director, Jo-Anne Poirier, VON President and CEO, and His Honour The Honourable Arthur J. LeBlanc, Lieutenant Governor of Nova Scotia)
His Honour, the King's representative in Canada, welcomed guests and noted that, since 1897, "VON has contributed to the health and quality of life for clients requiring at-home or community care." He added that VON is credited with providing the first public health nurses in most Nova Scotian communities, particularly in cases where clients could not afford private or hospital care.
"Through times of distress and uncertainty, VON has remained a stabilizing force. Thousands of clients and their families have benefited from meal deliveries, social, recreational, and therapeutic programs, palliative care and bereavement support. As I consider all that has been accomplished by staff and volunteers, I am truly moved by VON's legacy of compassion, courage and endurance," His Honour said.
 
Cyndy De Giusti, Chair of the VON Board of Directors, told guests that VON and our clients gain so much from the work and support of our network of dedicated volunteers. "Whether you sit on a Board to advise and support leadership or you contribute your time by delivering meals, rides or compassionate respite care, the work you do for VON and our communities is invaluable." 
Jo-Anne Poirier, VON President and CEO, noted that Government House was a command post during the Halifax Explosion, and that VON nurses were on the scene back then to tend to the injured. VON staff members continue to play an important role in health care today, and, although it's been a difficult year in Nova Scotia, our staff have persevered because of their passion to help people. She also told guests that VON is proud to partner with the government in Nova Scotia, and has seen an increased awareness that the home and community care sector plays a significant role in the healthcare system.
 
Emily Hemlow and Barbara Martell, the VON Nova Scotia Fund Development Team, told guests about their own motivation for becoming donors to VON. Barb remarked on the power of connections in bringing about needed change, saying that word of mouth will continue to be important as VON raises the funds necessary to implement VON Connect. 
Attendees celebrated their collective achievements while also looking to the future. With the continued support of donors and volunteers, we will implement VON Connect throughout the organization, so that we are able to provide more home and community care services to those who need them.