VON Week is May 21 – 27, 2023!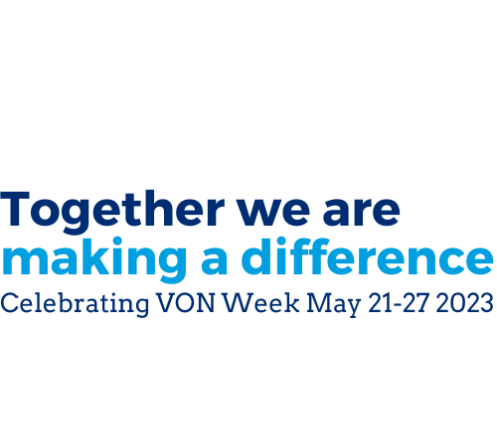 Every year, VON Week provides us with an opportunity to raise our profile in the communities we serve. This year, we celebrate appreciation, togetherness and purpose. It's a year to move forward from the challenges of the past three years with a sense of renewal.  It's a time to emphasize our purpose—making a difference in people's lives—and to highlight the significant role we play in Nova Scotia and Ontario's healthcare systems. We also celebrate our incredible staff and volunteers, who provide innovative clinical, personal and social supports to our clients in their homes and in community settings. 
VON Week 2023's theme is:
Together We Are Making A Difference
#VONDifference
This year, we will celebrate the innovative and creative spirit of VON staff and volunteers, the desire of our staff to make a difference in people's lives, and the impact we have on the healthcare system. We'll share stories on social media, arrange public displays to raise awareness and celebrate all that is unique about VON. We hope you will take part in celebrating activities during #VONWeek2023.
If you have any questions about VON Week, please email [email protected].