VON Partners with Brantford Fire on Safe Community Project Zero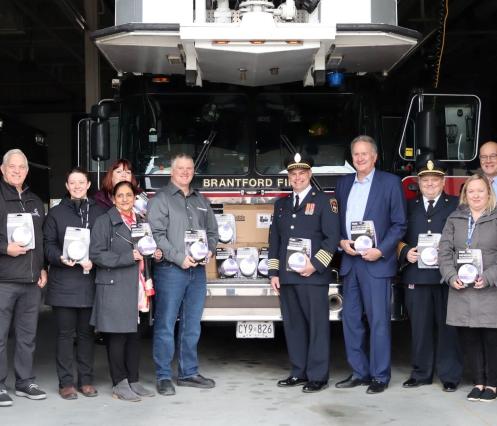 VON Brantford is excited to partner with Brantford Fire Services to provide smoke and carbon monoxide alarms to vulnerable people in the community.
Enbridge Gas and the Fire Marshall's Public Fire Safety Council are collaborating to improve home safety by reducing fire and carbon monoxide-related deaths through a "Safe Community Project Zero" public education campaign that will provide combination smoke and carbon monoxide alarms to Brantford residents. Enbridge has donated the alarms.
VON, along with the Canadian Association of Retired Persons, will be distributing more than 300 alarms to vulnerable, socially isolated seniors or those who are at risk of falls, throughout Brantford.
Alex Townsend, Program Coordinator for the Safety At Home program, was integral in developing the partnership between the fire department and VON.  The Safety At Home program offers a home safety assessment for seniors to ensure that they have proper equipment and to reduce the risk of falls in the home. The partnership with Safe Community Project Zero will enhance VON's focus on safety at home.