VON Nurses specializing in Wound, Ostomy and Continence (NSWOC)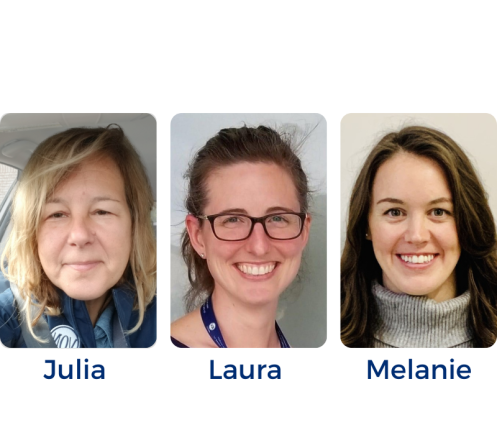 There is a 50-year-old palliative cancer patient who was experiencing poor quality of life and who was housebound due to her ileostomy bag, which was being changed up to six times a day. That is, until she started seeing a VON specialty nurse (NSWOC). Once treated by this nurse, the client only had to change her ileostomy bag once a week. The feedback from this woman and her family was heartwarming. Because of the specialized care that she received from our VON NSWOC, she now has more freedom. This is just one example of the excellent care that NSWOC provides clients of VON. 
What is NSWOC? 
NSWOC stands for Nurses Specialized in Wound, Ostomy and Continence. They previously were known as ET (enterostomal therapy) nurses. NSWOC nurses graduate from a 12-month long program, recognized by the World Council of Enterostomal Therapist and the Canadian Nurses Association. NSWOCs work across the continuum of care and provide a holistic assessment and management of ostomies, acute and chronic wounds and urinary and fecal continence problems. NSWOC are helping to address the strains on Canada's healthcare system by controlling costs through high-quality evidence-based care that leads to better outcomes. 
Benefits of NSWOC:
Nurses Specialized in Wound, Ostomy and Continence Canada (NSWOCC) recently published a white paper describing the NSWOCC Power of Three. The Power of Three are: higher quality care, lower costs and better outcomes. Wounds are complicated to treat and can pose a financial burden on the healthcare system, which NSWOCs can help to alleviate.  Regional Executive Director for the East North region of Ontario Liz Loftus suggests that: "Advanced wound and ostomy care and subsequent improved healing time results first and foremost in an enhanced patient experience. Decreasing the length of stay for patients with complex wounds can free up system capacity as more patients can be cared for when they are discharged."
Meet the VON NSWOC Team
Melanie Barr 
Melanie completed her NSWOC training and began practicing in August 2022. "Although I have just started practicing in this role, I have already found it very rewarding with each client experience. The Wound Ostomy and Continence Education Program (WOC-EP) course assisted in improving overall assessment and knowledge to support wound, ostomy and continence care. This education, along with the right treatment modality, can help speed up healing and improve patient care outcomes."
Laura Kelly
Laura began working as NSWOC in June 2022. Since then, she has helped many patients manage their care. Within her first month of working as NSWOC she treated the 50-year-old palliative cancer patient who was changing her ileostomy bag multiple times a day. Because of the specialty care that Laura provided, this patient now has better quality of life. 
Julia Teng
Julia has been working as a NSWOC with VON for ten years and up until August 2022 she was the only VON NSWOC in Southeastern Ontario. Since the NSWOC team has grown Julie has been able to see more clients as her travel time has decreased with the additional support. She is excited that she gets to brainstorm and mentor the new NSWOCs. "It's very exciting to see these two new recruits put their knowledge into practice. Together, we can be a good source of advice and guidance to other nurses; while our patients go through the difficult transition period of adapting to having a stoma."
VON is dedicated to its vision: Every life lived to the fullest. These NSWOC nurses are helping VON achieve that vision with the valuable work they do, benefiting the organization, the population and the health system as a whole. Many patients that have been on service for months have now healed in weeks after being cared for by a NSWOC. 
Loftus says: "Our hope is to leverage the knowledge and experience of NSWOC by providing wound and ostomy education and support across the organization. While Julie, Laura and Melanie currently do some virtual knowledge sharing on a patient-by-patient case with staff, I hope to formally expand this support to other sites on a wider scale – especially for sites without NSWOC who currently subcontract these services.  We also plan to operate NSWOC clinics four days per week in the Belleville, Northumberland and Peterborough areas as volumes permit."
All three NSWOC were financially supported by our VON Community Corporations to complete their education. VON is committed to growing their employees and these NSWOCs were visiting nurses.
 
We would like to express our deep appreciation for the funding provided by our Community Corporations!