VON eHomecare and Aamjiwnaang First Nations Partnership for Hospice Palliative Care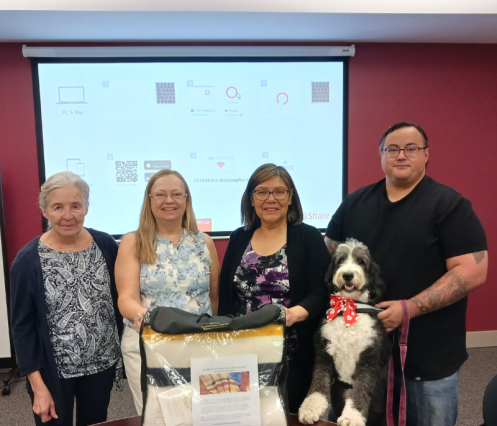 VON's eHomecare program recently trained six PSWs from Aamjiwnaang Community Health to become healthcare technicians (HCTs). This means that when there is an Aamjiwnaang palliative patient in their community, they will be: cared for by an Aamjiwnaang Community Health worker and connected to a directing registered nurse using the eHomecare model of care. 
On September 30, 2022, The National Day of Truth and Reconciliation, the Hudson's Bay Foundation and the Gord Downie & Chanie Wenjack Fund partnered to launch Oshki Wupoowane | The Blanket Fund. One hundred percent of net proceeds from the sale of all Hudson Bay Company point blankets will go to Indigenous Peoples.
As a symbol of recognition of First Nations history, and the history and impact of Hudson's Bay point blankets in colonialism, VON donated a Hudson's Bay point blanket to the Aamjiwnaang Health Centre to use as a fundraiser for their programs.
Shown here at the Aamjiwnaang Community Centre classroom with the blanket is Robin Wood, an RN at Aamiwnaang Health Services, Deborah Schmidt, Senior Manager of eHomecare at VON, Marcella Kudaka, Aamjiwnaang Home and Community Care administrator, Winterson Rogers, Aamjiwnaang Community Centre Administrative Operations Clerk and Piper, Winterson's service dog.