VON Canada Receives $2M Donation to Support Ongoing COVID-19 Response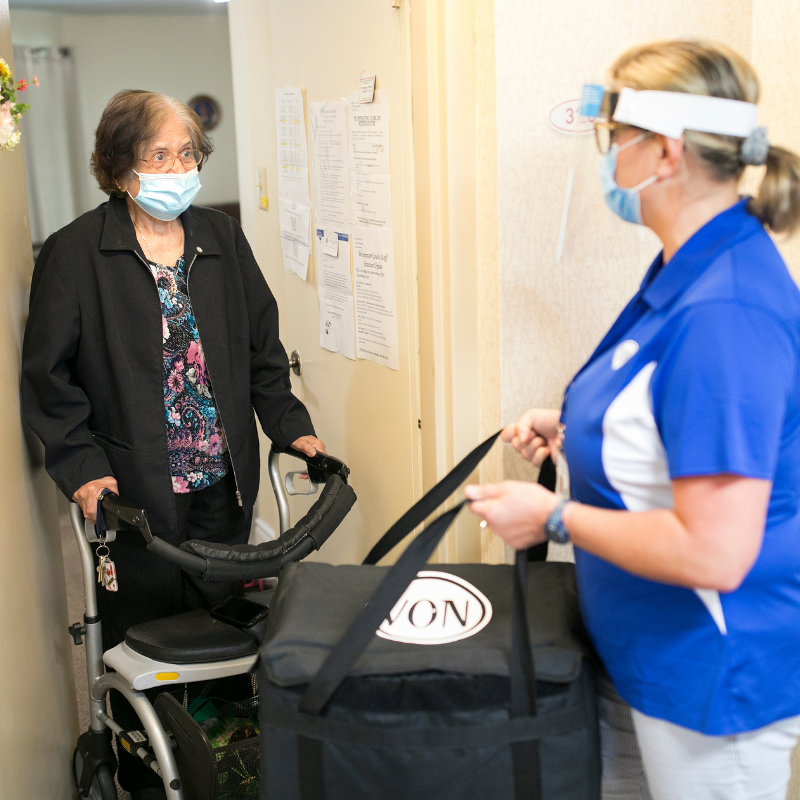 VON Canada is honoured to be the recipient of a generous $2M donation from businessman and philanthropist Mark Scheinberg through the Scheinberg Relief Fund, to support the continued safe delivery of care by VON staff and volunteers in Ontario. Throughout the COVID-19 pandemic, VON has been proud to deliver front-line healthcare and social support to people in their homes which, as this pandemic has shown, is the safest place to be. 
The Scheinberg Relief Fund's contributions support VON's work in four streams:
Development of enhanced professional practice education and clinical assessment training, to strengthen delivery of client-centred care to VON clients across the province.
Building capacity among VON's front-line volunteers, including specialized online training to assist in delivering virtual care. This is further enhanced by the provision of equipment and training to enable the seniors we serve access virtual care. 
Enhancement of VON's food security programs, recognizing that increasing grocery costs and other limitations have brought hardship to many seniors
Support for VON's enhanced safety and security practices and equipment, to ensure that front-line staff and those VON serves remain safe.
"The Scheinberg Relief Fund's generous donation will help us strengthen virtual care for those who rely on VON", says Jo-Anne Poirier, President and CEO, VON Canada.  "More than that, the Fund's support for training and equipment will provide a lasting legacy for VON, and for the people we serve. The commitment of our teams since COVID began has been nothing short of remarkable. They have adapted to address client need, and to fill gaps created by the necessary closure of some of our in-person services."   
VON is one of many organizations around the globe whose COVID-19-related efforts are being supported by the Scheinberg Relief Fund. 
Mark Scheinberg, Scheinberg Relief Fund said: "We're proud to be supporting VON Canada's response to the Covid-19 pandemic in providing vital services, equipment and meals to seniors and equipping front-life staff with the PPE equipment they need. Despite the most difficult circumstances, Jo-Anne and her team have ensured there is continuous care for VON's elderly clients during some of the most challenging times of their lives."
VON Canada is committed to ensuring that people can continue to access vital care that improves their health and wellbeing. This generous gift from the Scheinberg Relief Fund helps VON meet this goal in Ontario. 
About VON Canada: VON Canada has been pioneering care at home for over 120 years. Today, we are a highly trusted non-profit organization that works with our clients, employees, volunteers and partners to provide innovative clinical, personal and social support to people who want the comfort and peace of mind of living in their own homes and communities. VON is accredited with Exemplary Standing by Accreditation Canada.
About Mark Scheinberg and the Scheinberg Relief Fund: Mark Scheinberg, an Israeli-Canadian businessman and philanthropist, founded the Scheinberg Relief Fund, together with his family, in March 2020 to help tackle the direct impact of COVID-19. With an allocation of US$50M, the Scheinberg Relief Fund supports organizations and initiatives in locations where the family has a business or personal presence. The four categories the fund supports are Medical Equipment and Supplies, Food Security, the Elderly, and Animal Welfare. Donations have already been made to non-profit organizations and initiatives in 10 countries across 4 continents. These include Canada, Costa Rica, Cyprus, Isle of Man, Israel, South Africa, Spain, Ukraine, United Kingdom and the United States.