VON Canada Awards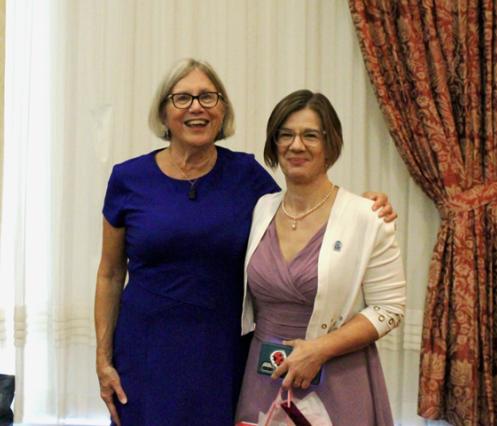 And the winners are…
Each year, we present the VON Canada Awards to employees and volunteers who have made significant contributions to the organization and to their communities, putting VON's values into action in the work they do every day.
The 2023 VON Canada Awards were presented at the Annual General Meeting of the Board of Directors in Halifax, Nova Scotia in September. Cyndy De Giusti, Chair of the Board, Jo-Anne Poirier, President and CEO, and Peter Currie, Past Chair of the Board, recognized the remarkable contributions of these worthy award recipients:
Lady Ishbel Aberdeen Award - Benedicte Franquien, Professional Practice and Quality Consultant, was awarded VON's top honour—the Lady Ishbel Aberdeen Award. In nominating Bene, her colleagues said she is deeply committed to her work both on the Practice Quality and Risk team and on VON Connect, VON's digital health project. Bene is dedicated to client safety, has boundless patience for helping others to understand and implement VON Connect and has an infectiously positive attitude. 
In accepting her award, Bene said that community nursing chose her, capturing her heart when she did a clinical placement in the field. She noted that working with VON in Nova Scotia has led to some great opportunities. "In each position I have occupied I have worked with amazing, strong co-workers," she said. "I am here today because of them and how they shaped me. There are challenges still ahead, but I know that we have the will and the people to face them."
Lifetime Associate Award - Dave Slater, Chair of the Hastings Northumberland Prince Edward Community Corporation and member of the Joint Planning Advisory Committee to the Board, is the winner of the 2023 Lifetime Associate Award. Dave leads with a quiet confidence that comes from a stellar professional and volunteer career. He is the walking embodiment of VONs values, demonstrating respect and compassion, and striving for excellence and improvement in all areas of his work.
Dave said it's an honour to be part of the VON community, contributing to such an important mission and mandate. He added, "Thanks to the combined efforts of the Board, staff and volunteers, I would say VON is stronger than ever and well positioned to face the challenges ahead." 
Award of Distinction - Paul Sutherland received the Award of Distinction for Nova Scotia volunteer work. In 2008, the team at VON Pictou turned to Paul, a former RCMP officer, when they needed a reliable volunteer to deliver nursing supplies to clients' homes. He has also been instrumental in recruiting other volunteers, reducing the time that nurses spend coming into the office for supplies and giving them more time with clients. Besides remaining committed to this program for the past 15 years, Paul has also been a transportation volunteer. 
Paul told those assembled that he's done quite a bit of volunteer work since retiring, but has most enjoyed working with VON. He hopes to continue for a number of years.
Award of Distinction - Howard Shears, Chair of the Middlesex-Elgin Community Corporation, is the winner of the Award of Distinction for Ontario volunteer work. Howard has been volunteering with the Community Corporation for six years, and has been a strong champion for VON, working tirelessly to increase the organization's profile in the community. He sits on all five Board committees, generously dedicating his time and expertise. Howard has also taken a leadership role on the VON Connect fundraising campaign. 
Howard said he has been pleased to follow in the footsteps of his father, who was a leadership volunteer for VON in Cape Breton. "I'm trying to live up to the example he set. I'm grateful for the support of my colleagues and very proud to be associated with VON."
Award of Distinction - Michelle Purcell, Executive Assistant to the Senior VP of Home and Community Care, accepted the Award of Distinction given to a Nova Scotia staff member. Colleagues say Michelle consistently goes above and beyond the scope of her role, and takes the initiative to seek out all things possible, contributing to meaningful change. They also say she is a joy to work with and truly embodies the caring and supportive culture VON strives for. 
In accepting her award, Michelle noted she was shocked by the nomination, as she is most often working behind the scenes encouraging others to put their best foot forward. She added that it has been a pleasure to work for the senior leadership team.
Award of Distinction - Tammy Stevenson, Perth-Huron Adult Day Program Coordinator, received the Award of Distinction given to an Ontario staff member. Tammy has been with VON for an incredible 36 years! She has worked at all of the Perth-Huron ADP sites and has been instrumental in growing the programs. Tammy has a wonderful philosophy—she expects that every day at ADP will be the participants' best day. She demonstrates this philosophy by offering diverse programs and encourages attendance by removing barriers to participation.
"I'm pretty sure that I bleed blue (the VON colour) like most of you, after all these years," Tammy said. Although she was humbled by the recognition, she noted that her sister encouraged her to accept the award proudly, recognizing that it is her calling to help others. "Thank you to VON here and at the home branch for allowing me to do my piece of kindness in this great big world."