Thunder Bay Branch Celebrates New Office Grand Opening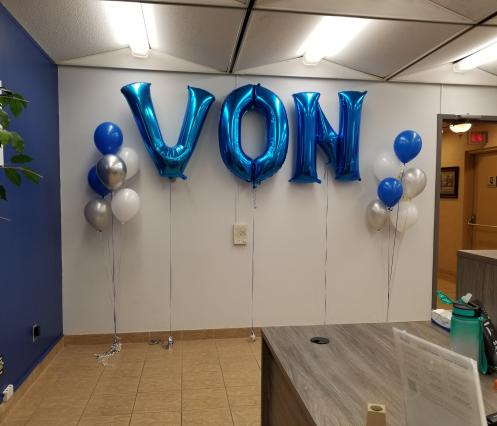 VON's Thunder Bay branch celebrated the grand opening of its new location, at 1265 Arthur Street East, on November 23. Serving as the head office for Northwestern Ontario, the new office is located in a well-recognized medical arts centre, in close proximity to primary care providers.
"This move is an opportunity to celebrate a new chapter for VON in Thunder Bay," says Senior Manager Robert Kilgour. "And then looking forward and really focusing on how we can meet the needs and fill the gaps of our health system in the community."
The VON team was pleased to welcome many special guests to the grand opening celebration, including Thunder Bay Mayor Ken Boshcoff, Community Corporation (CC) Chair Robert Young, VON volunteers and staff, and representatives from Ontario Health, HCCSS, peer organizations and partnering home care and CSS agencies.
The team moved from the previous downtown location in stages, starting at the end of May. It's been a lot of hard work — decluttering, packing up the old office, moving furniture and having cabling and signage installed — but Kilgour says the effort has paid off. 
Kilgour says, "I look out one way and I see the Nor 'Wester Mountains and when I look out the other way I see the Sleeping Giant over Lake Superior. That in itself is a huge morale boost to the staff." 
With 16 team members in the office regularly, and another 130 out in the field, the new site is the right professional setting from which to: provide home care; personal support; and community services that enhance quality of life for seniors and others in the area.
"It's a visionary kind of opportunity, to be able to say, we're here, we're committed, and we intend to continue to bring the very best care that VON can — something that we see as the core of who we are as VON from Lady Aberdeen to today," Kilgour says.