Thoughts from a VON volunteer visitor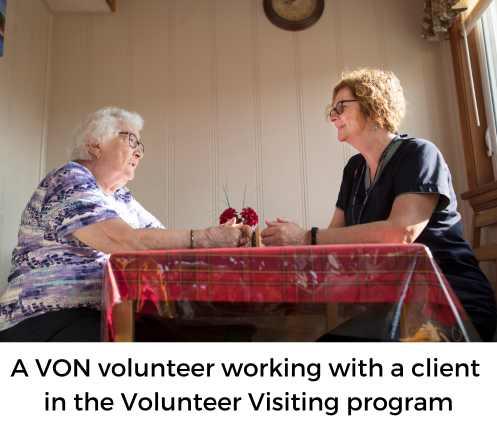 "Isolation is the worst enemy of a broken spirit."
Joyce, a participant in VON's Volunteer Visiting program, signed up to help others experiencing loneliness or isolation. But she soon found that giving her time helped to lift her own spirits too.
Although she was dealing with personal difficulties, in 2022 Joyce decided to continue in her volunteer role. "Every Wednesday morning, initially by phone, then finally in person, I met with a wonderful woman who had recently moved to our community," she explains. "I could visit her, hear about her joys and struggles, her family, her grandchildren, her life before coming to our community."
Over the course of the year, the visits became three hours long. "I found true joy and could laugh again," says Joyce. "That joy filtered into the rest of my day and soon started to filter into the rest of my week."
The client expressed similar sentiments. "One day, as I was leaving, she said she wakes up Wednesdays and is so happy because she knows I am coming," Joyce says. "I could honestly tell her that I felt the same."
Joyce recommends the Volunteer Visiting program to others. "When we make the conscious choice to volunteer with VON, there is a double positive effect–the client is given our time, energy and enthusiasm and we in turn will always be affected and blessed by theirs."
The Volunteer Visiting program is currently offered at nine VON locations throughout Ontario. Friendly, trained volunteers visit isolated members of the community to provide companionship, support and personal assistance. Seniors or adults with a disability who are lonely, socially isolated and have trouble making new social connections because of failing health or limited mobility benefit from the program.
Volunteers are trained and carefully screened before being matched with a client. Coordinators make every effort to match clients and volunteers with similar interests or backgrounds to encourage the development of meaningful relationships. 
Clients and volunteers might visit in the client's home, run errands together or walk to local parks. In this way, clients have the opportunity to improve their physical and emotional health and get assistance with daily activities.
Ask us about a volunteer opportunity that's right for you!
VON has volunteer opportunities to suit everybody. Ask us about palliative volunteer visiting, delivering Meals on Wheels, providing entertainment for Adult Day Programs and more!
https://von.ca/en/volunteer