Temporary pilot becomes popular program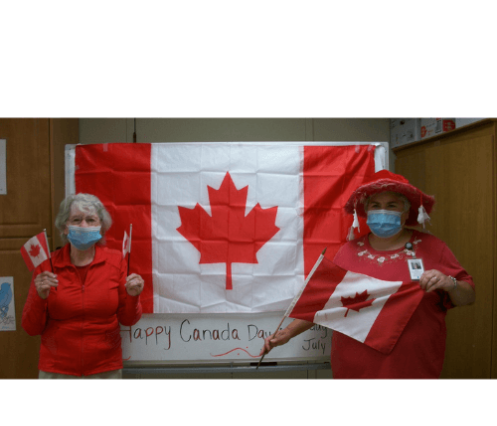 What was once a temporary fix to address the waitlist for Adult Day Program (ADP) has become a popular program in its own right for the VON Perth Huron team.
By taking a fresh look at their resources, the team was able to design a "Dinner Break," offering people on the waitlist the opportunity to access programming in the evening hours.
Previously, staff members worked in the overnight respite program two nights per week, and came in on a third evening to perform duties such as cleaning, baking, preparing and organizing for the day program. This new arrangement had the dual function of giving staff more consistent hours and ensuring the facility was appropriately maintained.
The team felt that staff skills could better be used to support clients on the third evening. They began a pilot program in March of 2022, inviting a group of four clients from the waitlist for ADP to receive evening services until they could get a space in the day program. 
"The Dinner Break has been quite successful," says Sheri Gilhula, Manager of Home and Community Care, Community Support Services. "Some people don't want to get up first thing in the morning and come to the day program. It also works well for those individuals who experience sundowning or other behaviours in the evening. And we've heard from families that they appreciate having time to go for dinner with a friend or attend a book club or a support group because they have planned coverage in that evening time." 
Monday has become a men's night, while Tuesday is ladies' night. Clients of both evenings have expressed that they have lots of fun. 
The team has found that Dinner Break means richer programming for the overnight clients as well. They now have four to five additional clients to interact with instead of just one other overnight client. Because Dinner Break is programmed like ADP, with person-centred activities, a shared meal and social time, both overnight and evening clients take part in enriched programming. 
The team has been flexible to the needs of clients and caregivers. For example, they accommodated a client whose wife wanted him to stay later than the regular 4 p.m. to 8:30 p.m. hours. With overnight staff arriving at 8:30 p.m., they were able to continue to provide him with a safe, supervised space. His wife could then join a group of caregivers for a monthly movie night.
"We have the resources and we extend our hands to fulfill the needs of the family member as well," says ADP Supervisor Pradeesh Pious. "The program addresses boredom and agitation in some individuals who may experience late afternoon/evening sundowning at a pivotal time when the caregiver's energy and patience may be waning."
What started as a 3-month pilot is now well past a year.
"The hope is that we can replicate this in other areas of Perth Huron," says Deb Selwyn, Senior Manager, Home and Community Care, Community Support Services. "I think this example identifies how meeting the needs of the clients, and lending consideration to the needs of our staff and the community can build wonderful and creative programs while supporting staff retention and engagement."