Seniors Managing Independent Living Easily (SMILE) proves life-changing for Trenton-area client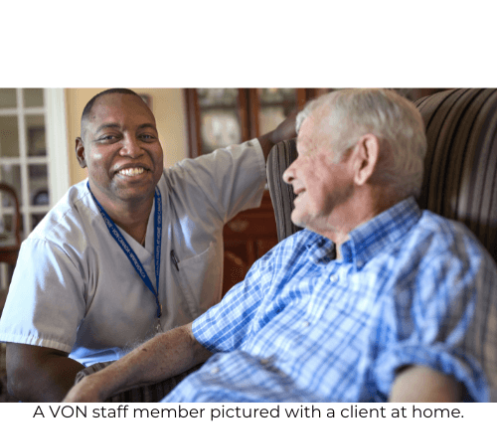 Colin Murphy knows firsthand the difference that SMILE can make. The case coordinator for the Southeastern Ontario program assists clients with identifying and arranging the services they require to remain safely independent at home. Every quarter, or as client conditions change, Murphy checks in with his clients by phone and in-person during home visits to ensure the services they're receiving meet their needs and to determine if there has been any significant change in their situation that might lead to the need for additional or different services.
One particular client on the waiting list for SMILE wasn't responding to calls or written communications. "I tried one last time and we finally connected," Murphy says. "She explained that she's in a wheelchair, that she lives alone with no family supports and struggles with depression. Her depression was a major reason why she didn't follow up or return my calls." 
Murphy later reached out to this client for her first quarterly check-in call and was blown away to hear the difference in her mood and outlook. "She told me that SMILE has been life-changing for her," says Murphy. "She feels more in control of her life and of her home. She says she feels a night-and-day difference in her happiness and well-being. She even described her household management and social/recreational provider as an angel. She told me how even just the simple fact that she has somebody to interact with and to depend on has changed her life." 
What is the SMILE program?
SMILE is a flexible, scalable and client-centred program that was co-designed with seniors and service providers. SMILE provides at-risk seniors with navigation and delivery of community-based supports, such as meals, transportation, housekeeping, grocery shopping, foot care, bloodwork, laundry, respite and seasonal outdoor chores, to keep this population living in their own homes longer. The typical SMILE client is 75 years or older, living in the community, has trouble with tasks of everyday living, and is at imminent risk of hospital admission or referral to residential long-term care. 
Seniors and caregivers involved in the initial co-design process wanted to reduce economic and geographic barriers to community support services (CSS). With its broad definition of "service provider" and freedom for clients and caregivers to choose the service providers they want, SMILE is increasing access to much-needed CSS for seniors in the area; more than 2,000 clients in the Eastern Ontario area benefit from the SMILE program each year.