Neighbourhood Model supports independence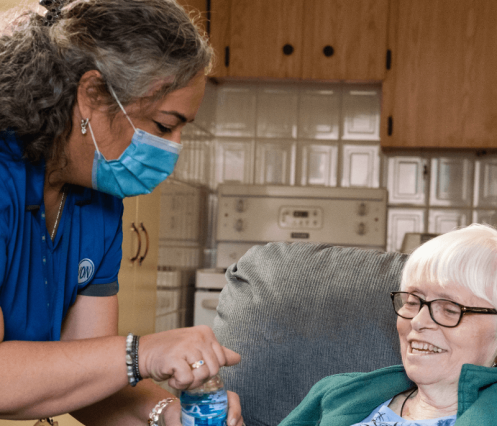 VON and Home and Community Care Support Services (HCCSS) Erie St. Clair have launched an innovative neighbourhood hub model of care in Sarnia, Ontario. 
A neighbourhood hub model of care sees a team of staff provide personal support services in a defined geographic area with a high concentration of home care patients. Clients benefit from a consistent care team, frequent check-ins (virtually and in-person) and a reduction in missed care. Staff members benefit from predictable hours and a defined work area, with less need for travel.
Unscheduled services are also available for clients' emergent care needs, supporting decreased emergency visits and increasing the opportunity for patients to remain at home rather than moving to long-term care.
In a recent survey of 36 clients:
●    All respondents agreed they have been treated with courtesy and respect by the care team supporting them in the community.
●    The majority indicated they now have a better understanding of the various services that are available to them from VON and within the community.
●    Close to three quarters feel their mental outlook has improved since starting the program.
●    Over 83 per cent feel able to remain independent and in their own homes with the services provided.
VON staff were also surveyed to get their feedback on the new care model. Some of the comments received include:
●    Having personal support workers (PSWs) who live and work in close proximity to the clients allows us to build a better bond with them, therefore making their care better.
●    The clients have expressed they like knowing that they will get service from a small group of people who are familiar with their care needs and wants. 
●    I love this program and I have a renewed sense of purpose. I look forward to waking up and coming to work. I have fallen in love with being a PSW all over again and I want to be the best possible version of my professional self I can be with VON.
VON looks forward to seeing the overall benefits of this one-year project and hopes that it will continue and expand to other regions of Ontario.