LEGHO Easing Hospital-to-Home Transition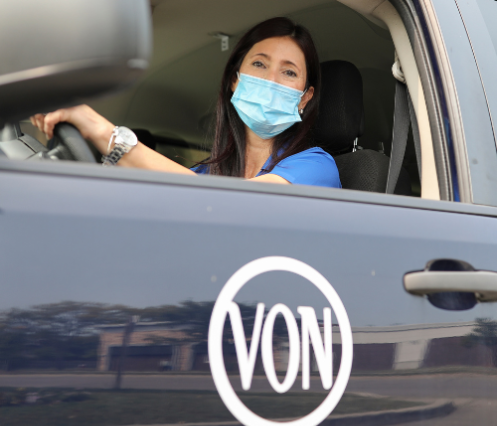 As part of the Ontario Health Team Strategy, there is a focus on a lead agency model. VON plays that role in South Western Ontario with The Let's Go Home (LEGHO) program. 
As lead agency for LEGHO, VON provides intake and assessment and coordinates the delivery of services. The "basic" bundle of services typically includes Meals on Wheels, transportation, homemaking and wellness checks, as well as navigation support for other non-CSS programs, like community paramedicine or primary care. If the client requires additional supports, such as friendly visits, these can also be arranged. When the client requires additional services beyond four to six weeks, program staff can help arrange these services prior to the end of the program.
The LEGHO program is designed to meet the needs of seniors and adults with physical disabilities who are going from hospital to home or who come to the emergency department (ED) with needs related to social determinants of health. The program provides clients with a free bundle of community support services for a period of four to six weeks to ensure they can stabilize at home and don't need to be readmitted to hospital. VON is the lead agency for the program in Elgin, Oxford and Guelph-Wellington.
"One of the big advantages of the LEGHO program is that it doesn't require the creation of new services or supports, but provides assistance navigating the numerous providers and services already available in the community," explains Danielle Todd, Senior Manager, Home and Community Care, Central Region. "It also helps reduce barriers to accessing service by removing co-pays for the duration of time in the program.
"Often not having sufficient care at home also means that there is no one at home to help arrange the multiple support services the client requires after their hospital visit," continues Danielle. "LEGHO takes this burden off the client and family, allowing the client to focus on recovery."
Programs like LEGHO that reduce hospital admissions and use of alternate level of care (ALC) beds are also important to the healthcare system, as many hospital beds are occupied by people who cannot safely be discharged because of lack of care at home. 
LEGHO was launched by Ontario Health West in 2022, across the 15 Ontario Health Teams in the region. The program is similar to VON's Home at Last but expanded to include more services and last for a longer period of time. 
The proven success of two similar pilot projects (Homeward Bound in Sarnia/Chatham and CSS Bundled Care in the Southwest HCCSS region) helped to inform LEGHO's creation.