Hurricane Fiona: A Look Back Almost One Year Later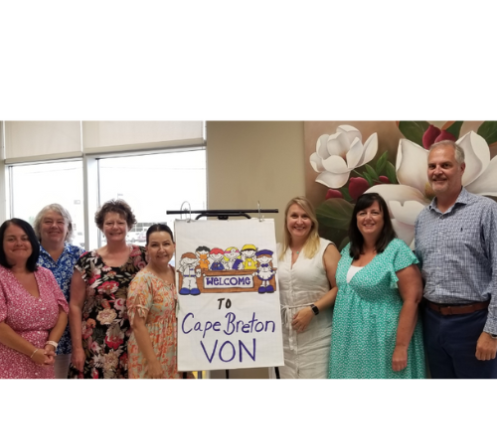 On September 23, 2022, the Canadian Hurricane Centre reported that Hurricane Fiona would make landfall as a post-tropical storm within 24 hours.
The next day, Fiona hit Cape Breton Island hard. While team members at VON's Cape Breton site had made advance plans for the storm, they had no idea how bad things would get.
That morning, District Executive Director Elizabeth MacDonald received a one sentence email, "Not sure if you guys are aware but the roof is coming up at the office."
While team members were dealing with their own home or property damage, they also rallied together to clear out the damaged and drenched part of the office by moving items to areas that remained dry. They set up a temporary workspace so communication could be restored between the office and the field staff who were doing their best to reach clients through downed electrical wires and trees, gas shortages and long road detours. 
 "One nurse climbed 16 stories to help a client, other team members who were off-duty helped ensure another client had their twin dialysis bags changed twice a day," says Nurse Manager Frances Magliaro. 
The team worked closely with the Department of Seniors and Long-term Care to identify and care for high-risk clients, many of whom were unable to leave their beds. 
The loss of power to the island caused problems for everyone. Gas stations were often closed and generators couldn't be fueled. Grocery stores were closed and spoiled refrigerator food couldn't be replenished. Food scarcity became an issue. Staff scrambled to ensure clients were fed. The community support services (CSS) team came to the rescue by providing frozen favourites and groceries to clients. 
The Cape Breton team was able to find a safe and secure space to work from. "We really need to give a huge thanks to Paul Carroll, General Manager of the Membertou Sports and Wellness Centre," Elizabeth says. "Because of them, we were able to help provide care to our clients in the most seamless way possible after dealing with one of the most devastating times in our island's history. We will never forget their kindness and patience!"
The staff eventually did move back to a sparsely furnished office on December 17. Now, almost one year later, most of the furniture has been replaced and the location has expanded to include a new community nursing clinic. The island is still recovering from Fiona's damage. According to the Insurance Bureau of Canada, insurance claims totalled $660 million, making it the costliest storm in Atlantic Canada's history.